Drug and Alcohol Rehabs That Allow Cell Phones
We receive a lot of calls from individuals who are looking for rehabs that allow cell phones. The main reason people seek technology friendly facilities is because they don't like the idea of being isolated during treatment. For most, staying in touch with their loved ones is important. Some people require access to their phone for work related reasons.
Can You Have a Cell Phone in Rehab?
Yes, you can find a really good rehab that will let you keep phone and laptop. However, a
large number of addiction and mental health disorder treatment facilities restrict cell phone use. Many rehab treatment professionals believe that family and friends can be a distraction on the individual during rehab and can negatively affect their recovery process. Because of this, the client should focus on their recovery and should not be in contact with the outside world. 
Benefits of a Cell Phone & Laptop Friendly Rehab Center
Allows you to stay connected with your workplace

Maintain contact with those you wish to be in contact with during your stay

Let's you complete work related tasks or complete school assignments

Watch your favorite shows or stay entertained during down time
Upscale Rehab Facility That Allows Phones and Electronics:
For many business owners, executives, business professionals or people who are accustomed to an upscale lifestyle having access to their phone is a must. There are a number of luxury treatment facilities that cater to clients who want to be able to work while in treatment. While some rehab programs allow the use of cell phones and laptops during recovery, each rehab facility may have their own policy when it comes to laptop use and cell phone access.
There are technology and business friendly drug and alcohol rehab facilities that have a business section. They're equipped with things like (computers, email, smartphone, fax and other items) where patients may be able to tend to certain business matters during inpatient rehab treatment. Luxury rehab programs are sought out by:
healthcare & medical personnel such as doctors and nurses

lawyers

athletes

celebrities

business owners, etc.
Here's what you can expect from upscale addiction rehab centers:
No hidden costs or secret fees. Transparent pricing and bottom line numbers are provided upfront.

Luxurious facility offers various amenities.

Super comfortable rooms. A private room may be available. 

3, 5, 7, 14 day rehab or longer

Menu consists of chef prepared gourmet food

Offer a flexible length of stay with (short or long term rehabilitation program).

Allows phones and laptops.

Offers various recovery programs for addiction and mental health disorders.

One on one behavioral therapies for patients and patients, parent and child and their families.

Traditional and holistic treatment options

Group sessions.

Care is provided by licensed health care professionals.

Joint Commission approved.
Call us to speak with a treatment specialist to go over treatment options and the best treatment plan for you. The staff members are addiction professionals ready to go over the treatment process step-by-step and answer your questions and point you in the right direction. 
What to expect During Inpatient Treatment
Here's what you can expect from an drug and alcohol rehab treatment facility that allows phones:
Detox

Individual Therapy

Group Sessions

Fitness Sessions

Group Activities (Covid 19 compliant)

Yoga, Massage, Chiropractic Sessions may be available

Family therapy may be available

TVs with DVD Players, Telephone Lines and Internet u

se for those who don't bring their own electronics

Coronavirus Policy: We have strict measures to keep our patients safe from Covid 19.
Find an Inpatient Rehab Facility

That Allows

Cell Phones and Laptops
There are thousands or drug and alcohol addiction rehabilitation programs to choose from in the United States. We know you have questions and concerns. Let us provide you with the information you need. We can find the care you deserve that is covered by your insurance. Call us to find a phone and laptop friendly drug rehab facility for you or a family member.
100% Confidential, No Obligation & No Pressure to Commit
Phone Lines Are Open 24 7. Get in Touch.  Call The Phone Number Now To Speak to Our Addiction Treatment Specialists! They will go over treatment plans and address your concerns. Have your insurance card handy when you get in touch.
We will need for for validation purposes. Your contact information will be kept in strict confidence.
Technology, Laptop and Cell Phone Access Rules
Over 92% of American adults are cell phone users, according to Pew Research Center data. Nearly two million Americans receive addiction treatment each year, according to the Substance Abuse and Mental Health Services Administration (SAMHSA). These populations' overlap shows a clear reliance on each other which should be addressed during treatment.
For some people, not being able to get in touch with family members while in rehab can cause feelings of anxiety. Addiction treatment programs that don't allow phones and laptops during inpatient recovery treatment do so for a couple of reasons. 
One reason a treatment provider does not allow electronics in

treatment is

that making and

receiving calls and replying to texts and emails, or spending time on social media 

like Facebook or Twitter c

an cause distractions and may affect your recovery.

Having access to a smartphone, laptop and internet access gives people access to their circle of friends. There are several concerns with regards to this. One problem is that they have access to their circle of friends or people they used to get with with. Being in contact with them triggers desires to get high. The other problem is that they can get in touch with their dealer which give

them the ability to source drugs.

Research shows that social isolation can negatively affect a person's mental well being. This is one reason smartphones are welcome. We will connect you with a rehab facility that allows cell phones so that you can stay connected.
Just about every substance use disorder treatment center that lets you use a smartphone during rehab treatment have basic telephone communication policy. Here's the list:
Patients must not use their phones for five days. This is a critical period when your body is detoxed from drugs and alcohol. There could be uncomfortable withdrawal side effects. Your body needs to be medically stable and your mind in a position to adjust to a new environment and open to building new connections.

Clients must not use their cell phone during therapy sessions.

Clients must not use their phones in a way that is disruptive to other clients or staff members.

Social media use is prohibited.

Access to your cell phone could be lost if clients break company guidelines.

Cell phone use must be in accordance with HIPPA privacy regulations. Clients may not take photos of others and post them online or send them back and forth.
These are just some basic cell phone and technology use guidelines and vary by each recovery center.
Can You Receive Phone Calls in Rehab?
Lockdown alcohol and drug rehab centers have a strict policy in place when it comes to the use of phones and laptops.  Calls are only allowed at certain times so that they don't interfere with treatment. Electronic devices such as laptops, iPads, iPods, smart watches and portable video game consoles may or may not be allowed. In fact, this may give a typical patient a feeling of isolation even though addiction treatment centers may be equipped with televisions, gym equipment and cozy surroundings. These guidelines are too restrictive for many patients. 
How to Sneak a Phone Into Rehab?
Yes, this is a real question some clients have when looking for a rehab program. Trying to smuggle anything into a rehab center presents serious issues and could cause dismissal. You don't need to sneak a cell phone in rehab. Contact us today and we will help you or your loved ones find an accredited rehab center where you're allowed to bring your cell phone. 
Find Alcohol & Drug Rehabs That Let You Keep Your Cell Phone
Addiction Recovery Helpline is Available 24 7
Confidential, No Obligation & No Pressure to Commit
Call Us Today!
What to Expect at High End Rehab Centers
Rehab program with high standards, tools and advantages to help achieve success.
Caring staff members with a high level of experience, ability and desire to help you, or a loved one, improve your health and show you a path to a better life.
Many alcohol and drug recovery facilities for our patients to choose from.
Each health problem with be addressed and your questions will be answered.
Low traffic environment.
Patients must be over the age of 18.
Expert treatment providers in the addiction recovery field.
A history of having helped many others like yourself beat substance abuse addiction and achieve lasting sobriety.
Over 21 million in the American society have at least one addiction. Many cases result in relapse due to poor treatment. Only one person in ten receives proper care.
There are many types of treatments and ways to overcome substance use disorders. With proper inpatient treatment and a well developed relapse prevention plan, feelings and urges can be controlled, feelings of serenity can be achieved and relationships can be restored and lives can be changed.
We'll remove all the barriers and problems that prevent addicts from getting help. We'll answer all your questions. The recovery process will be explained. We'll need your insurance information for validation purposes. Life can make sense again. In order to improve your health and your life, or that of a loved one, you have to do your part and gift yourself a new life.  One option is to do nothing. Another is to call center is open 24 7 and our agents are 100 % ready to help. If you've read this far down the page then you know you have nothing to lose. Our reps are standing by the phones ready to answer your questions and tend to your needs. Anyone can find a reputable treatment program from the comfort of their home.
Does Insurance Cover Technology Friendly Rehab
Most rehab centers accept some type of insurance and most insurance plans cover addiction treatment whether or not they allow electronics. The best thing to do is verify this information with the treatment facility ahead of time. Your treatment provider should be able to quickly confirm your benefits with your insurance provider.
support systems
Questions to Ask the Addiction Treatment Rehab Center
The first step you should take before selecting a substance abuse rehab center is to make sure that they have gone over all treatment options and answered all of your questions. Below are some common questions that we have received from many people
Can I have my cellphone?
Are there community phones I can use?
Are there restrictions regarding community phones?
How often can I call my family or friends?
Is there a time limit on how long I can talk to them?
Do I have access to my email account?
Are there computers that I can use?
Can I bring my own laptop?
It's worth noting that all rehab centers discourage posting on social media and most prohibit it.
Call Us Today to Speak to an Intake Expert
We have multiple drug and alcohol abuse treatment centers in our network that offer specialized addiction treatment services. One of our treatment counselors will answer all your questions about drug or alcohol treatment and recovery programs that are offered through our network of treatment facilities. They will help you or a loved one find a rehab program that allows cell phones.
Our caring health care professionals and treatment specialists are passionate about helping people who struggle with alcohol or drug addiction and mental health disorders.
Call us today to speak with an intake expert. They will verify your insurance coverage and match you with a substance abuse treatment provider that is right for you and your circumstances.
Your contact information will be kept confidential.
Our phone lines are open 24/7.
List of Rehab Centers That Specialize in Addiction Treatment
Legacy Healing Center
2960 FL-7 Ste102,
Margate, FL 33063
Legacy is a comprehensive addiction treatment center.
Garden State Treatment Center
350 S Sparta Ave Suite A201,
Sparta Township, NJ 07871
GSTC offers treatment from detox to aftercare.
New Life Recovery Centers
782 Park Ave #1,
San Jose, CA 95126
Detox, Residential, Outpatient, Family Program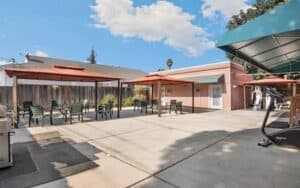 Starlite Recovery Center
230 Mesa Verde Dr,
Center Point, TX 78010
Treatment options include detox, inpatient and outpatient program.
Sundown M Ranch
2280 WA-821,
Yakima, WA 98901
JourneyPure
2349 Russellville Rd,
Bowling Green, KY 42101
Just Believe Recovery Center
100 Lincoln Ave,
Carbondale, PA 18407
English Mountain Recovery
1096 Alpine Dr,
Sevierville, TN 37876
Burkwood Treatment Center
615 Old Mill Rd,
Hudson, WI 54016
Mount Regis Center
125 Knotbreak Rd,
Salem, VA 24153
The Hope House
28901 N 114th St
Scottsdale, AZ 85262
Northpoint Colorado
4565 Kendall Pkwy
Loveland, CO 80538